Special Limited Time Offer…
Get The All-Inclusive

Essentials of "Youth Speed Training"
…Create Faster, Quicker & More Powerful Young Athletes in One Easy-To-Use Blueprint
Gain Instant Access to an Immediate 'How-To' Formula & Save
BIG TIME Cash on This Unique One-Of-A-Kind Offer
Can You Learn From the Best & Save Cash At the Same Time?
In a word… Yes.
The IYCA has always stood for high-quality.
Superior information, created by the best in the business, and relayed to you for a cost that puts other certification organizations to shame.
Our mission is to provide more VALUE than you pay in CASH…
… But we've truly outdone ourselves with this one!
2010 IYCA Trainer of the Year, Dave Gleason.
College Strength Coach Standout, Robert Dos Remedios.
World-Class Physical Therapist, Sue Falsone.
Texas Tech Professor and Coach, Dr. Toby Brooks.
The information in the 'Youth Speed Training' system is worth thousands…
… And will bring new life to your training business and new results for your young athletes!
Do We Really Understand the Specifics of Developmental Speed?
That's the question.
It's also the reason the 'Youth Speed Training' system was created.
I've written countless articles over the years.
Presented hundreds of seminars.
And while my message has been embraced by many, there are still far too many Coaches and Trainers out there who don't understand this basic concept:
Without a Progressive System, Your Young Athletes Will NEVER Be As Fast or Agile As They Could Be.
It's like trying to master the curriculum in Grade 8 when you're 11 years old and by-passed Grades 4 – 7.
You simply don't have the requisite knowledge or experience to understand and excel.
You will fail.
And you'll fail miserably.
The precursor to sporting success (in any sport) is based on your experiences and formed habits from middle childhood… Without the correct developmental path, you will have leaks in your form, ability and knowledge…
That's what the 'Youth Speed Training' system has been built to help you eliminate.
But there is another factor as well…

Seriously: Are We Hurting Young Athletes?
The answer is unfortunately, yes.
We don't do it intentionally and we're not trying to hurt kids… But we do.
My problem is that the lack of intent doesn't really matter.
Because the fix is a simple one.
All you need to do is understand the importance of 'Development Speed Training' (which is a fancy phrase for 'Play').
Put away the cones, speed ladders and hurdles.
Stop 'timing' your young athletes and counting 'foot contacts'.
The essence of 'Developmental Speed Training' is allowing your young athletes to experience movement and then teaching them through a progressive sequence how to take what they've learned and apply it functionally,
In one of the audios contained in the 'Youth Speed Training' system, Coach Robert Dos Remedios talks about what he sees at the collegiate level with athletes coming into his program.
From high school standouts to run-of-the-mill athletes, he claims they all lack the basic fundamentals… And his solution is based on getting them 'back-to-basics'.
Nothing fancy and no gadgets.
Just a 're-learning' process…
… BECAUSE WE DIDN'T SUPPLY THAT TO ATHLETES WHEN THEY WERE YOUNG!


Is Sport Specific Speed Training Truly Important?
The million dollar question…
… And my answer is going to surprise you.
Yes – Sport Specific Speed Training IS important.
But likely not in the way you think it is.
It's not about replicating drills, movements or situations within a given sport.
That's called 'CLOSED CHAIN' skill.
Dave Gleason, Robert Dos Remedios and myself all discuss this topic within the 'Youth Speed Training' system.
What we're after with young athletes is 'OPEN CHAIN' skills…
General Athletic Development that can eventually be applied to specific sports.
The reality of Sport Specific Speed Training is in the injury preventative concerns.
Do Soccer Players have increased risk of ACL injury over Baseball Players?
Do Volleyball Players incur more ankle injuries than Football Players?
Assessing the specific injury concerns within a certain sport can, will and does offer you insight on some practical needs of making speed training more individual.
But there's also the reality of 'Progressive Development'.
A phased system that shows you how to go from:
1. Basic

2. Complex

3. Implement Oriented
And yes…
… That progression is shown within the 'Youth Speed Training' system.
How Does Basketball, Soccer or Baseball Speed Training Change from 9 Years Old to 17 Years Old?
Now injuries aside, what differences in Speed Training are relevant when considering age?
Volume?
Intensity?
Resistance?
Those are the common considerations.
As young athletes' age, we make things 'harder' by:
1. Making them perform more sets and reps

2. Decreasing their work/rest ratio

3. Adding tubing, sleds or other forms of resistance to their drills
But are these measures correct?
Is there more we could (should) be doing?
Yes, there is.
6 – 9 years of age represents the phase of 'Guided Discovery'.
10 – 13, 'Learning Exploration'.
14+ is 'Application'.
And each of these relative chronological time frames MUST include differences in exposure, teaching and complexity…
That's why we all contributed to produce the 'Youth Speed Training' system…
Some of the Most Well-Known & Successful Experts Alive


Dave Gleason

2010 IYCA Trainer of the Year
Head Coach – Athletic Revolution

Developmental Speed Training & Programming





Robert Dos Remedios

Director of Speed, Strength & Conditioning
College of the Canyons

The Essence of Agility Training


Sue Falsone

Director: Performance Physical Therapy
Core Performance Institute

Injury Considerations & Youth Speed Training
30+ Sample
Speed Training Programs

Done-For-You


Brian Grasso
&
Dave Gleason

The Importance of Sport Specific Speed Training
Introducing… The Complete "Youth Speed Training" Essentials Library
5 Hours of Video Instruction…

2.5 Hours of Audio Education…

30 Done-For-You Sample Programs…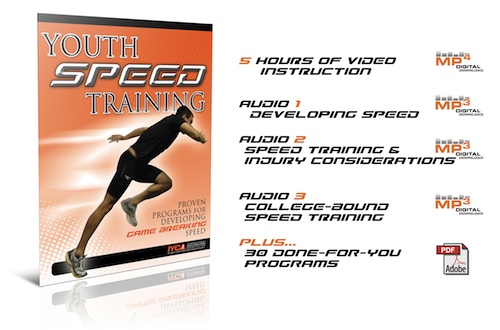 For Only $39.95
Why So Inexpensive?
Because young athletes are precious.
Because our industry doesn't do a particularly good job with developing kids.
Because your career and knowledge base matters to me.
Because truly wanting to be the very best Coach possible in order to better serve young athletes shouldn't cost you hundreds of dollars…
Period.


Tons of World-Class Information for Only $40? Feeling Skeptical?
Don't be.
Not only has the 'Youth Speed Training' system been developed by some of the best, most successful and most credible Coaches in the world…
… It's also yours for a full 365-days, risk-free:
"Test drive" Youth Speed Training for the next 365 days with absolutely no risk. See for yourself how much more effective of a coach you will become with our proven system. You are completely protected by our iron clad 100% money back guarantee.
If you are not completely satisfied satisfied, you can simply contact us and ask for a prompt and courteous, no hassles, no questions asked, 100% refund.
Absolutely Nothing to Lose… But Incredible Information & Knowledge to Gain…
The 'Youth Speed Training' is yours for only $39.95.
It's yours for 1-full-year with an ironclad guarantee.
Your full purchase price refunded if you are not 100% satisfied.
The information is exactly what you need to finally answer the question:
How Do I Make My Young Athletes Faster??
5 Hours of Video Instruction…

2.5 Hours of Audio Education…

30 Done-For-You Sample Programs…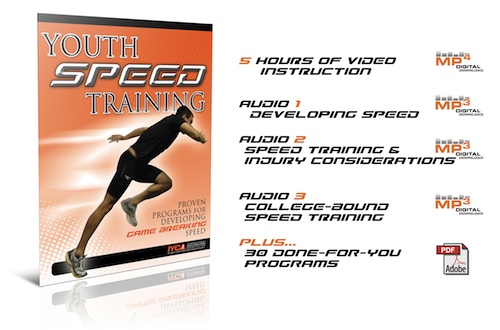 For Only $39.95
Dedicated To Your Success,
Pat Rigsby

CEO – International Youth Conditioning Association
P.S. – For only $39.95, the 'Youth Speed Training' system (along with 30-days for free on www.IYCAMembers.com) will answer all your questions about making your athletes faster, give you a done-for-you system that has proven successful and guarantees you won't be making the same mistakes that 95% of other Coaches are making —-> Click Here Right Now
P.P.S. – The 'Youth Speed Training' system is yours to test-drive for 365-days. 1-full-year to decide if $40 was worth it… If not, your money will be refunded without any questions or hassles —-> Click Here for an Ironclad 365-Day, Risk-Free Opportunity